VEHICLE SAFETY CHECKS
MAKE SURE YOUR VEHICLE IS ROADWORTHY
Making sure that your vehicle is roadworthy, even if you have been temporarily exempt from your MOT this year is as important than ever.
A few simple car checks that you can undertake on your driveway should leave you feeling comfortable to get your car back on the road in the run up to your MOT date.
If you are using your car for the first time in a while, you will need to check the following;
Tyre Tread
The legal minimum requirement is 1.6mm tread. Make sure you have this as an absolute minimum on your tyres to travel safely.
Tyre Pressure
Driving on tyres that are either under-inflated, or over inflated can seriously affect your braking distance, steering and fuel efficiency. Make sure you stick to the correct tyre pressure as advised by the manufacturer of your vehicle.
Oil Levels
Make sure your vehicle has enough oil before you travel. This will prevent your engine from seizing up and breaking down. A simple dipstick test will give you a good idea of whether you need to add more oil.
Fuel Levels
Check your fuel level, and always make sure you have ample fuel before you travel to prevent a breakdown on a major road or motorway.
Screen wash Levels
It is really important to make sure you have ample screen wash, so you are able to clear your windscreen when needed to ensure you have full visibility always.
Lights
Make sure that all of your lights are working – headlights, rear lights, brake lights and indicators. These keep you safe and help other drivers around you to stay safe on the roads too.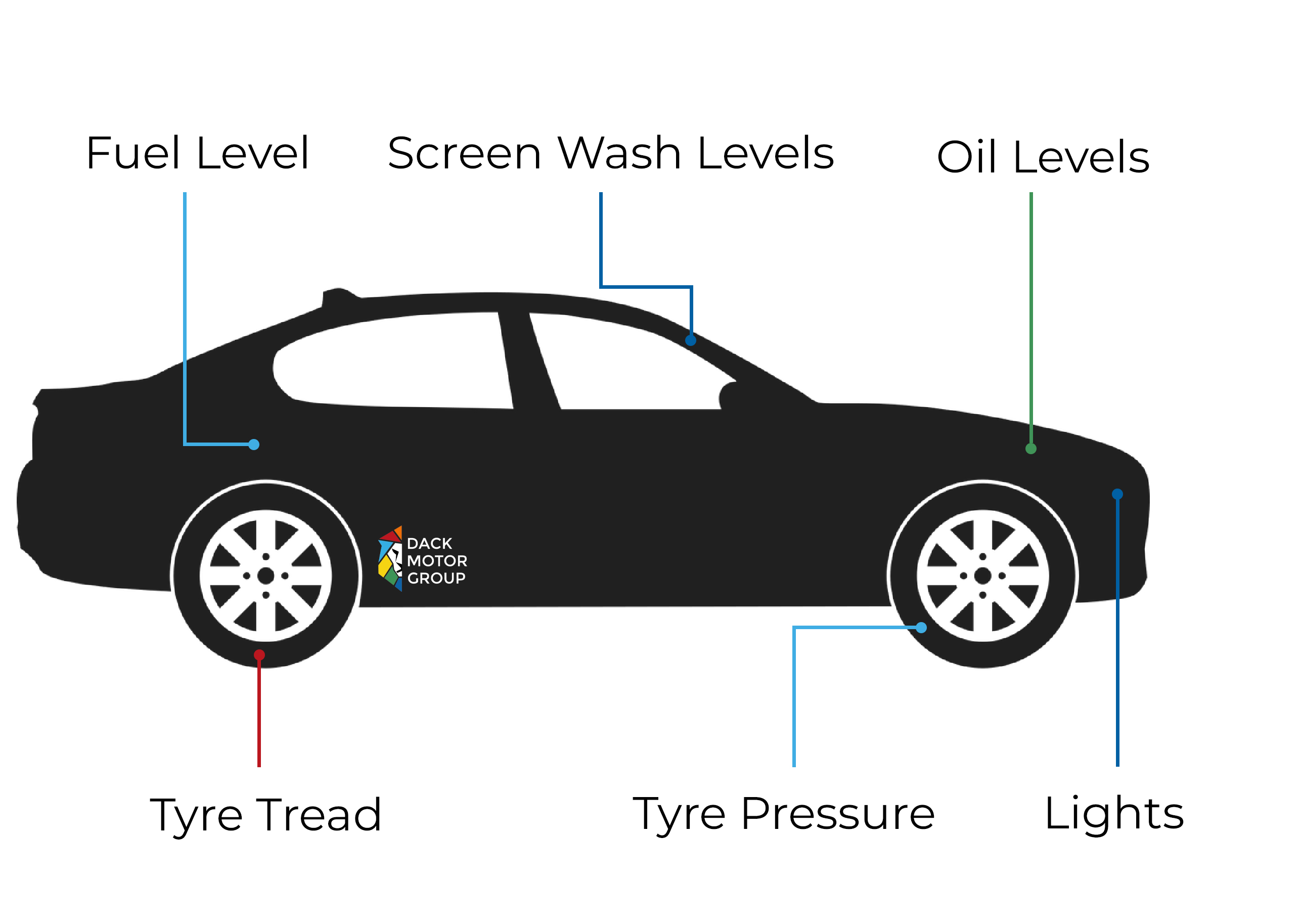 ---
If you notice any unusual noises, or lights on your dashboard before your drive, please contact us as soon as possible to book your car in for diagnostic checks and repairs. Alternatively, you can book online here.